Frameless – The UK's Biggest Permanent Immersive Art Installation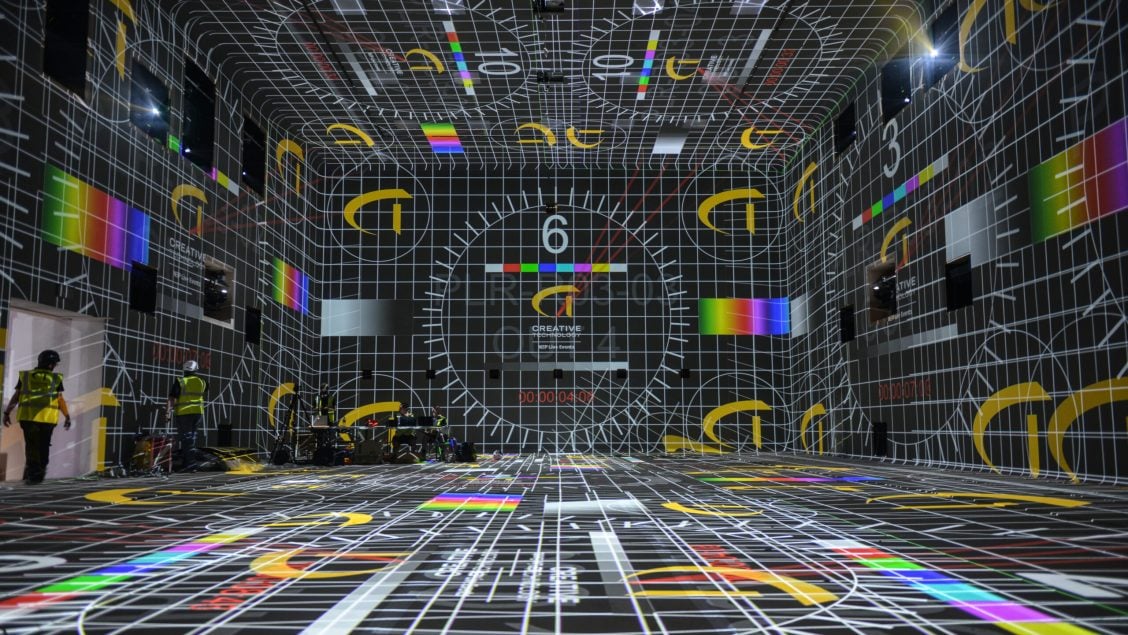 CASE STUDY ASPECTS:
360-degree service
Covering 3,000 meters squared
4 immersive galleries
450 million pixels
1,000,000 lumens of brightness
52 projectors
Creative Technology Systems Integration (CT SI) was contracted to deliver the display requirement, including LED and LCD screens and video projection, across the immersive galleries and for the wider venue requirements, including the foyer, escalator, meeting rooms and retail spaces.
THE PROJECT
Opened in Autumn 2022 and breaking the boundaries of projection art, 'Frameless' is the UK's biggest, permanent immersive art experience. Housed within the newly developed Marble Arch Place in London, the space covers almost 3,000m2 and showcases no fewer than 40 different digital interpretations of 28 of the world's most iconic artists.
THE CHALLENGES
Frameless offers a culturally rich, immersive, multi-dimensional entertainment experience that takes visitors on a journey into some of the world's most beautiful works of art.
The artwork is set to a score of specially composed music curated by award-winning composers which is bespoke to each of the four galleries – with much of the soundtrack and soundscape triggered by the visitors themselves as they move around.
A complex project of this caliber does not come without its challenges and the first one in this instance was the venue itself. Being such a spacious building with multiple rooms and galleries meant that technically this required a unique delivery. In addition to this, technology positioning was key in meeting the client's vision of projecting well-known artistic masterpieces seamlessly across the various surfaces and angles while ensuring the moving artwork illusions were never disrupted by the technology used to display it.
Another aspect which added to the challenging nature of this project was the timeframe from concept to delivery – with just 12 months to create this spectacular experience before the doors were opened to the public.
To effectively cover the entirety of each gallery with seamless projection, 52 projectors were utilised throughout the venue. The highest level of technical expertise and world-class technology was required to meet the high resolution and intricate set-up required to display the beautiful, high-resolution content.
It was very important that the projectors and other equipment were blended into the environment as unobtrusively as possible. A variety of methods were used to successfully conceal the equipment, including mounting projectors within walls at different angles using a variety of lenses to minimise shadows, and custom mirror-wrapping projectors to fit elusively into a gallery with a mirrored ceiling, columns and moat around the perimeter of the floor.
THE DETAILS
Gallery 1 – Beyond Reality
This gallery enables visitors to experience floor and wall projection, fitted with a mirrored ceiling and columns, and a mirror moat that covers the perimeter of the floor.
The wall projection is achieved using Panasonic RQ22K 3 Chip DLP projectors, delivering 20,000 lumens and 4K Quad Pixel Drive pixel shifting technology to provide native 4K enhanced resolution. For the floor projection, four Panasonic D3LEW200 90-degree short throw L lens projectors have been used. The room also has six Panasonic D3LEU100 zero offset UST lenses for the wall, along with two Sony A6000 / fisheye lenses for calibration, and Screenberry auto calibration for multi-projector setup.
The video playback consists of three Hive Player 3 with four SDI outputs.
Gallery 2 – Colour in Motion
The Colour in Motion interactive gallery uses advanced motion tracking to allow visitors to paint using their own gestures and movements. This was made possible by utilising Microsoft Azure Connect cameras placed at high level to track people's movements, with the information then sent to Derivative's TouchDesigner software to animate the projections in real time.
The interactive projection is created using six Panasonic RQ22K, eight Panasonic D3LEU100 zero offset UST lens, two Panasonic RQ35KEJ 3 chip DLP 30,500 lumens projectors with 4K Quad Pixel Drive to provide native 4K resolution, one Sony A6000 fisheye lens for calibration, Screenberry auto calibration for multi-projector setup.
Gallery 3 – The World Around Us
This is the largest gallery at Frameless where visitors are thrown into crashing oceans, explore bustling cities and stand on the edge of fiery volcanoes. The gallery uses wall, floor and ceiling projection, enabling images to be seen across all surfaces to extend every canvas. To conceal the equipment, the projectors have been mounted within the room's walls using different ranges of lenses.
Eleven Panasonic RQ22K 3 Chip DLP projectors, one Panasonic RQ13 3 Chip DLP projector, four Panasonic RZ21K 3 Chip DLP projectors, one Panasonic MZ13L, six Panasonic D3LEW200 90-degree short throw L lenses, and D3LEW10 for the walls, using seven RQ22. For the floor, four Panasonic D3LEW60 and one D75LE10 lenses are used with four RQ22 and one RQ13. For the ceiling, four Panasonic D3LEU100 zero offset UST lenses are used with four Panasonic RZ21. In the entrance, one Panasonic EMW200 UST lens is used with an MZ13L.
For calibration, two Sony A6000 fisheye lenses have been used along with Screenberry auto calibration for a multi-projector setup. Video playback is delivered by seven Hive Player 3 4K with four SDI outputs.
Gallery 4 – The Art of Abstraction
Within this gallery the artwork appears to float in space, but also moves across multi-layered, translucent surfaces. Vibrant colours are projected onto multiple gauzes which are up to four meters tall. These are suspended from the ceiling and mounted at various angles throughout the gallery. All 11 projectors within the room are mounted at 45 degrees to minimise shadows.
Four Panasonic MZ13L, three LCD and seven Panasonic MZ10KL are installed, used with 11 Panasonic EMW400 UST lenses. Once again Screenberry auto calibration caters for the multi-projector setup.
Gallery 5 – Blank Canvas
This gallery has been designed as a multi-functional space, where the walls can project a choice of imagery from the main galleries, but alternatively they can be used to display company messaging or logos to suit any private function or event. Projection is displayed across three walls within the room using five Panasonic MZ16kL, five Panasonic EMU100 UST lenses along with Screenberry auto calibration. Video playback is delivered by two Hive Player 3 4K with four SDI outputs.
The room has been created as a flexible space with a Panasonic MZ10KL projector installed to enable presentations to be delivered, whether for a corporate or educational event, with two video inputs enabling plug and play of devices.
Wider Venue
Around the wider venue in the entrance foyer, escalator base video wall, café, retail store, meeting room, office space, and multi-function spaces, CT SI installed a number of Unilumin Lamp BN2.6X 2.5mm pixel pitch LED for artistic use in addition to various Panasonic LCD video-wall and digital signage screens both in single use and video-wall formats.
Client Testimonial
"This is a big project and a big undertaking. We needed a company that had the resources and scale to deliver. Creative Technology is a big company that does a vast number of live events, but they also have a team that provides fixed installations, installations like this.
The creative teams were led by FiveCurrents, and UK company, Luke Halls, created the content. The technology partners were Autograph, doing all the audio and soundscapes, and Creative Technology, who was vital in overseeing all the technology partners, bringing it all together for us and making sure there were no gaps between the responsibilities of who was delivering what.
We did a lot of the work with Creative Technology. They helped host a shootout where we tested projectors and another with all the manufacturers. They did all the projection mapping design before we even physically got into the space. They were key in sourcing equipment at a time it was very difficult to get, ahead of opening. What we achieved to open in 12 months was quite extraordinary, and we wouldn't have done it without Creative Technology's help." – Simon Kentish, CTO -Frameless.
Additional details
INTEGRATOR: CREATIVE TECHNOLOGY
IN COLLABORATION WITH: FIVECURRENTS, LUKE HALLS STUDIO, AUTOGRAPH SOUND, PANASONIC CONNECT, HIVE, EM ACOUSTICS, AND ARTSCAPESUK.
Speak to us
Get in touch with one of our experts who will be happy to talk through your technology requirements with you.
Contact